On the evening of August 13, I left Manchester and arrived late in Edinburgh during the fringe festival – a nearly obscene event schedule of dance, theater, comedy, music, and film. The streets were packed with viewers moving between venues and cafés and bars (they do this all day for three weeks?!?).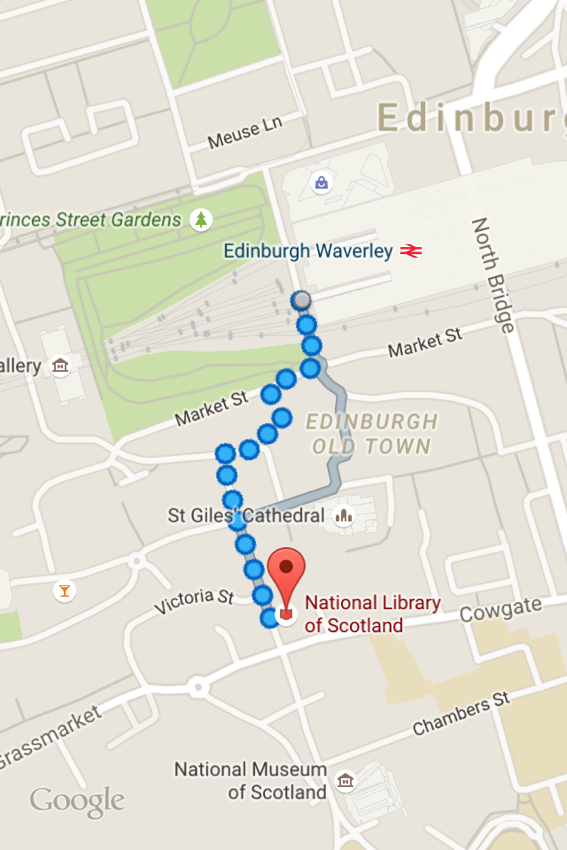 My room was just a few blocks away from the library so I explored the city in the morning before my 3pm appointment.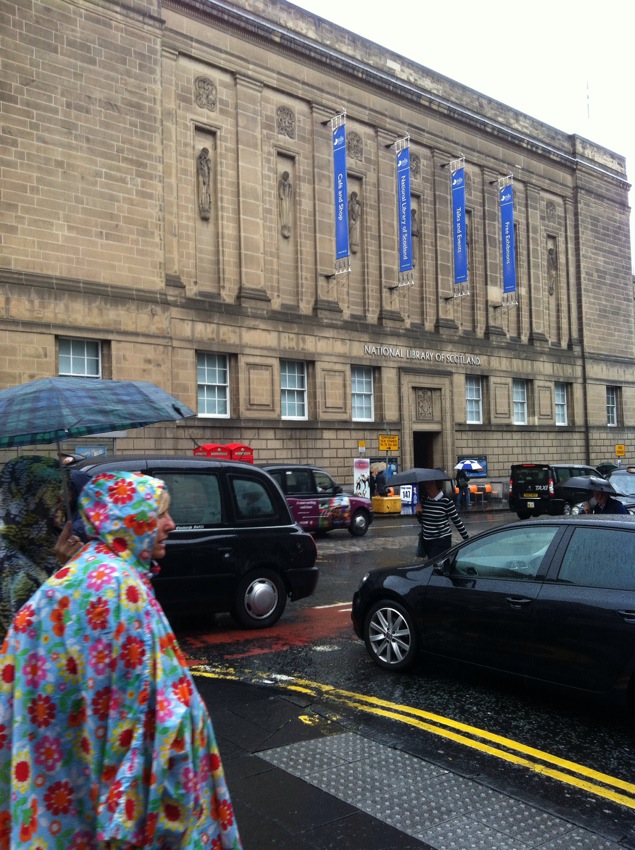 Walking up their stairwell covered in plates of information, I learned that William Smellie edited the first copy of the Encyclopedia Britannica in Edinburgh – Edinburgh has a historical hive of thinkers.
There I met with Anette Hagan (Rare Books and Music curator) and Andrew Martin (Literature and the Arts curator).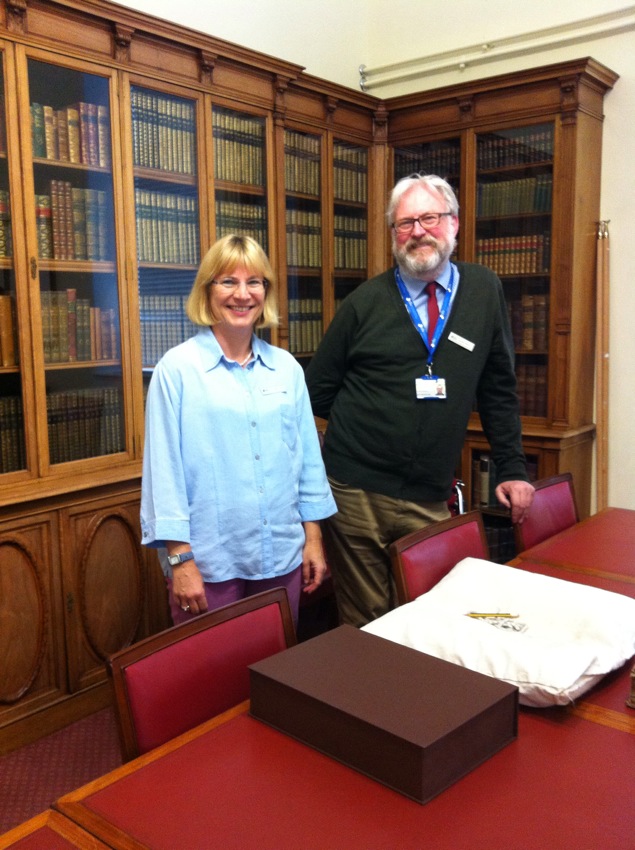 They, being curators, had selected some of their oldest and newest acquisitions.
I saw the first Scottish printed Bible called the Bassandyne Bible.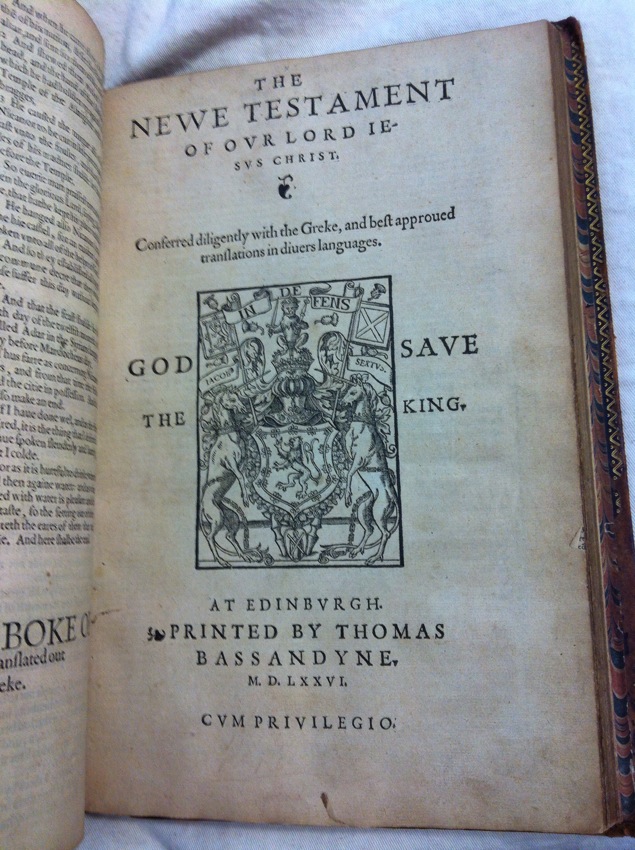 The dedication to James VI is my favorite: "thir daies of light quhen almaist in everie private house the buike of Gods lawe is red and understand in our vulgaire language".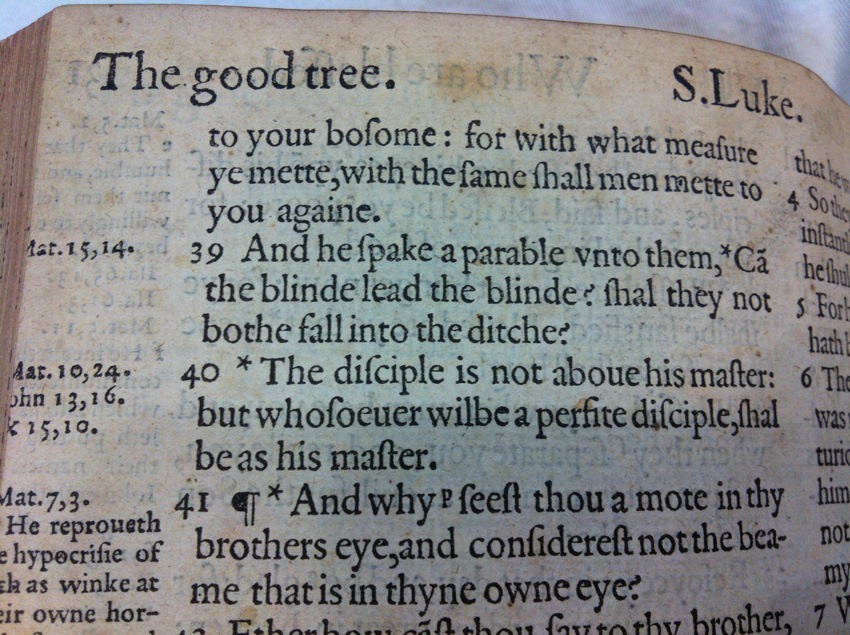 This book was designed for Self Teaching, with notes, chapter guides, maps, and other illustrations.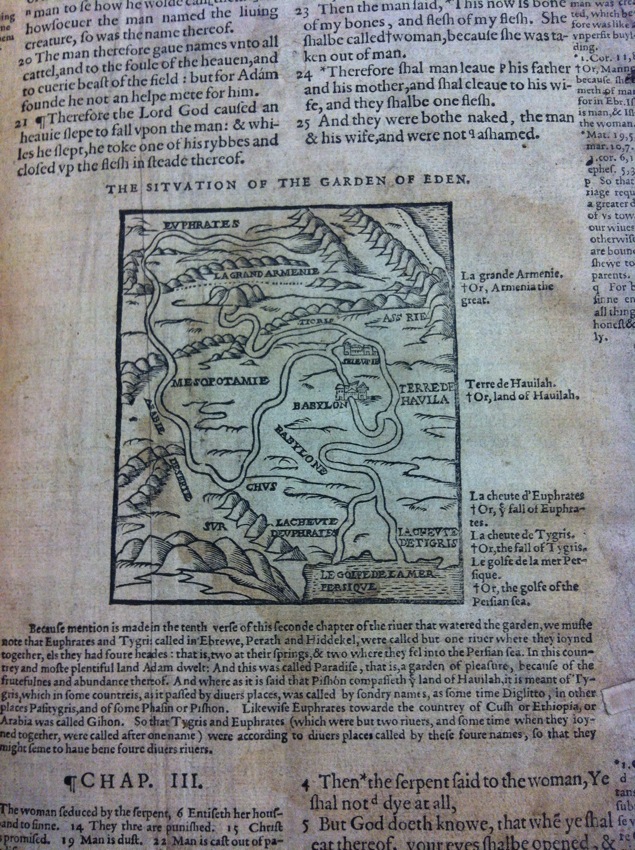 I am reminded of a book recommended to me by a mentor I acquired by self-imposition. Perhaps understanding my insecurity as a scientist pursuing art with no art degree, he suggested the The Ignorant Schoolmaster – five lessons in intellectual emancipation by Jacques Ranciere. "There is no language of reason. There is only a control of reason over the intention to speak. Poetic language that knows itself as such doesn't contradict reason. On the contrary, it reminds each speaking subject not to take the narrative of its minds adventure for the voice of truth."
May we all be poets.
Perhaps this digression comes from my hosts combination of presenting me with historical printing promoting personal study in 16th century Scotland and the free expression of contemporary Scottish books.
Perhaps I say this now because my trip is over and I'm awash in the general experience of what a library really holds (I should be telling you about the first Scottish Encyclopedia by Hector Boece devoted solely to the history of Scotland – but in the notes Anette gave me it says "[it]… is basically a glorification of the Scottish nation based on legendary sources. It is more interesting as romance than as history. The plot of William Shakespeare's Macbeth is ultimately traceable to it."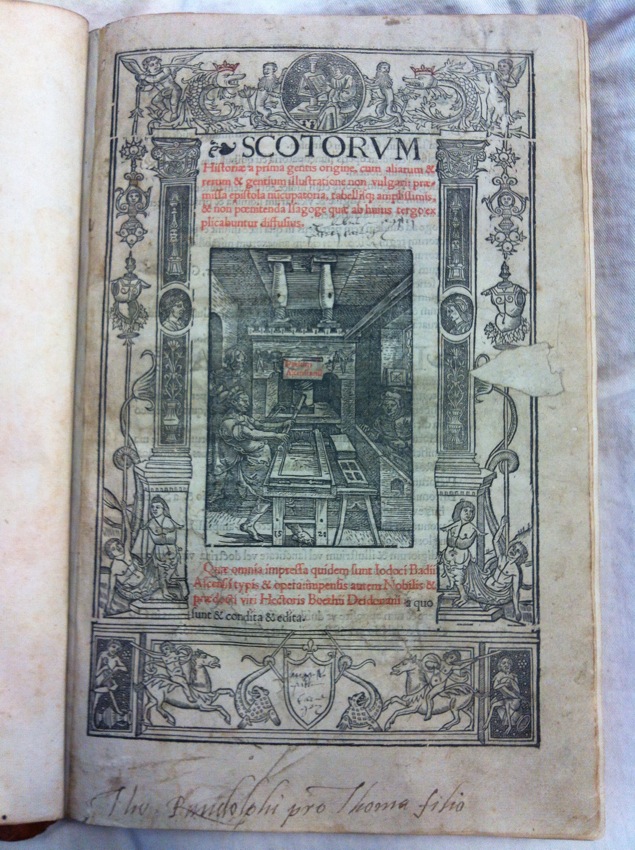 This was later translated into Scots by John Bellenden as the Croniklis of Scotland.
I would like to point out that the unicorn is the National Animal of Scotland.)
Sadly, I did not take notes of the authors of the contemporary books. But here are some images of books by Scottish artists or referencing Scotland in some way.
An embossed alphabet book of ecological plight.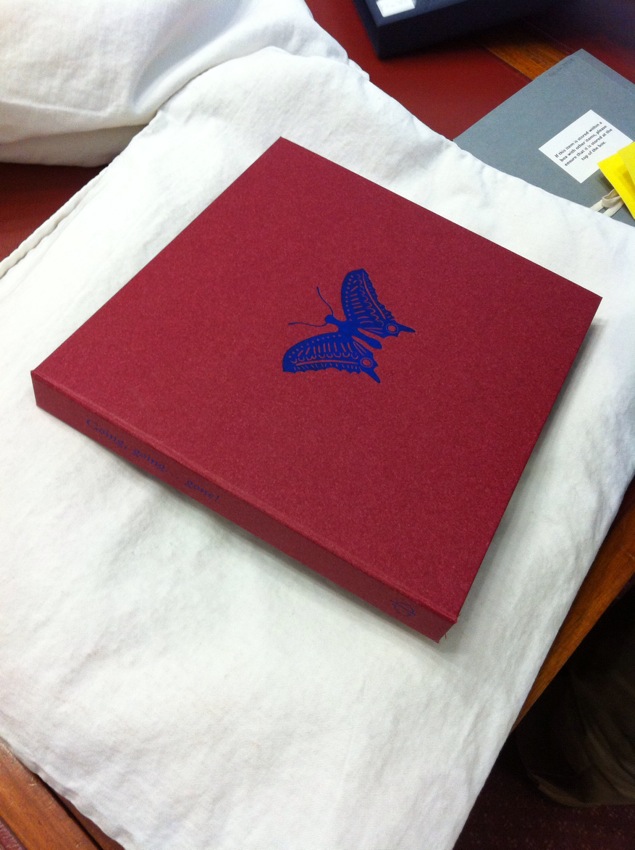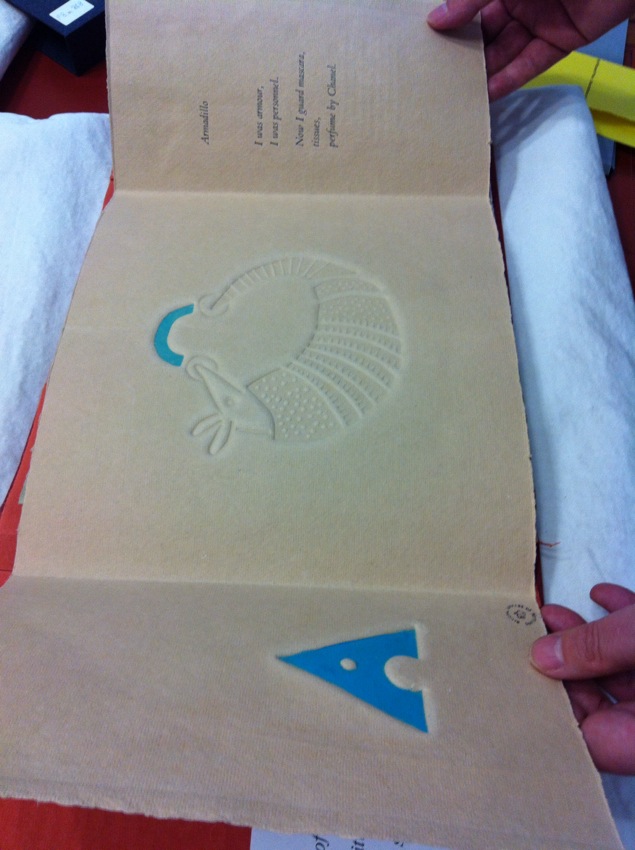 A beautifully etched accordion book – I loved at the different grasses featured in the landscape.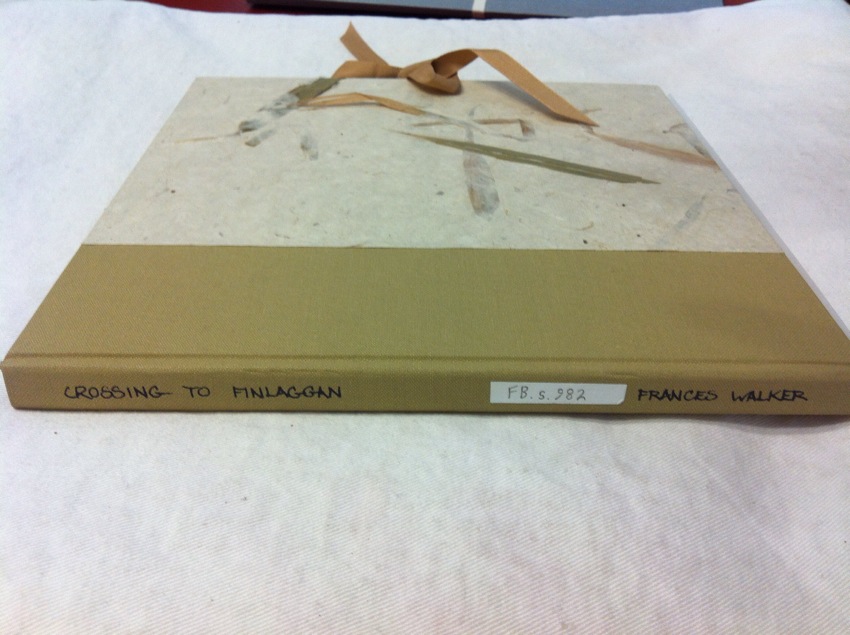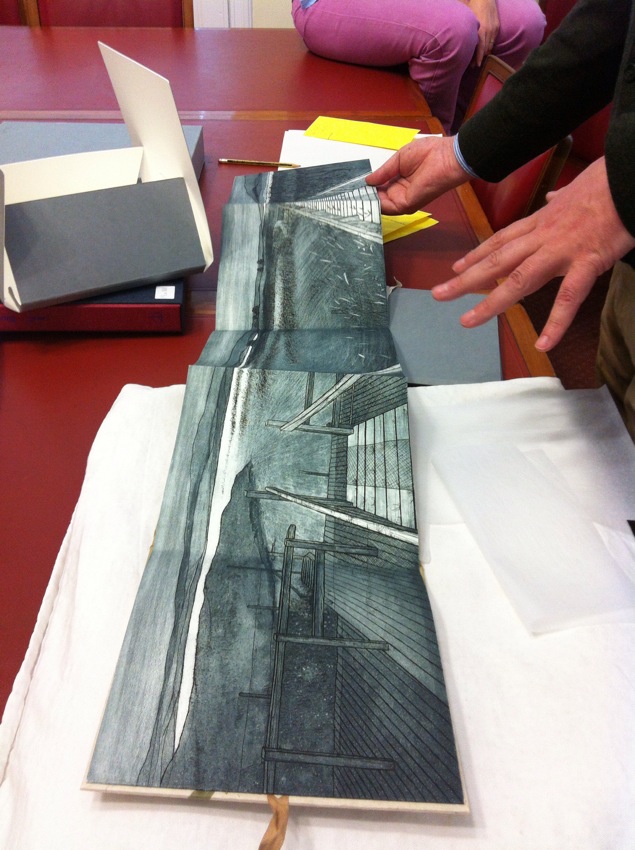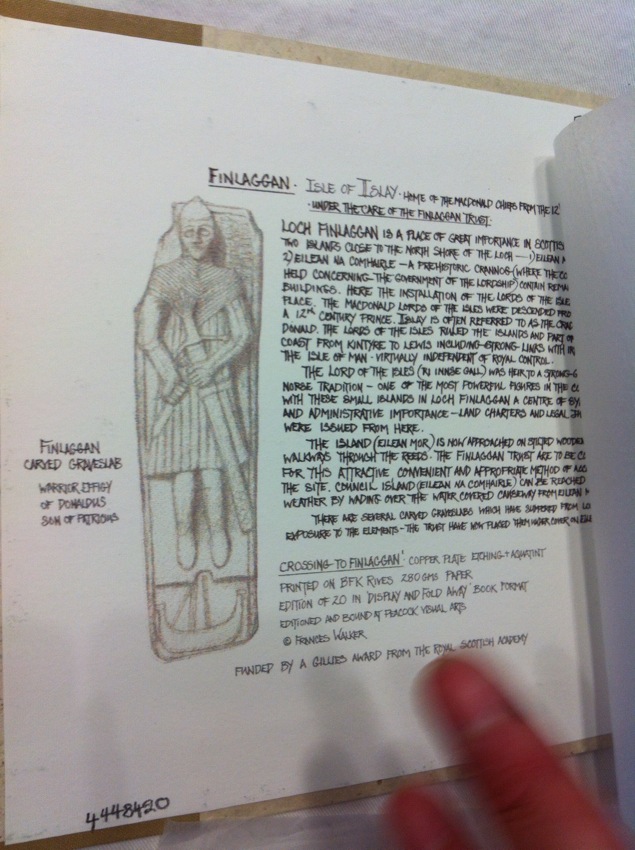 A poem on gorgeous handmade paper.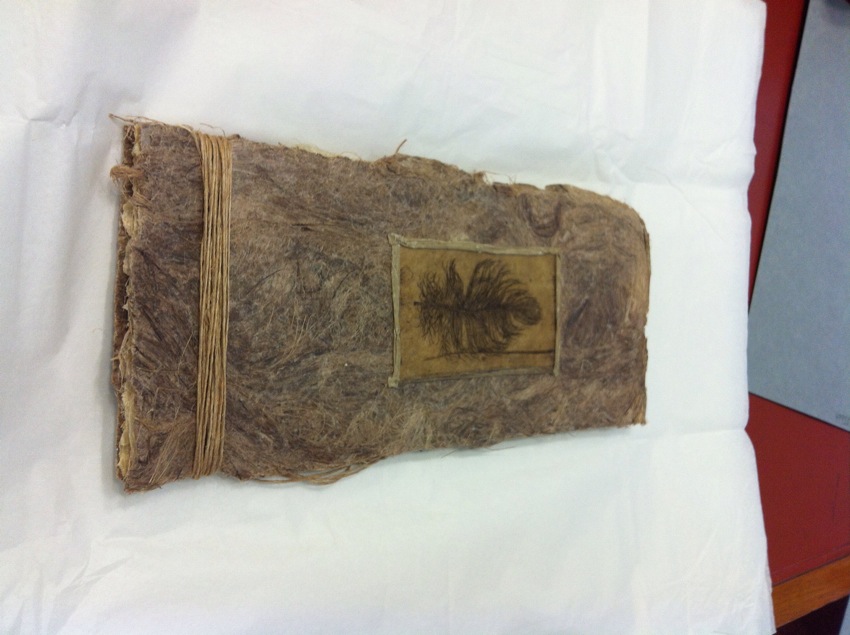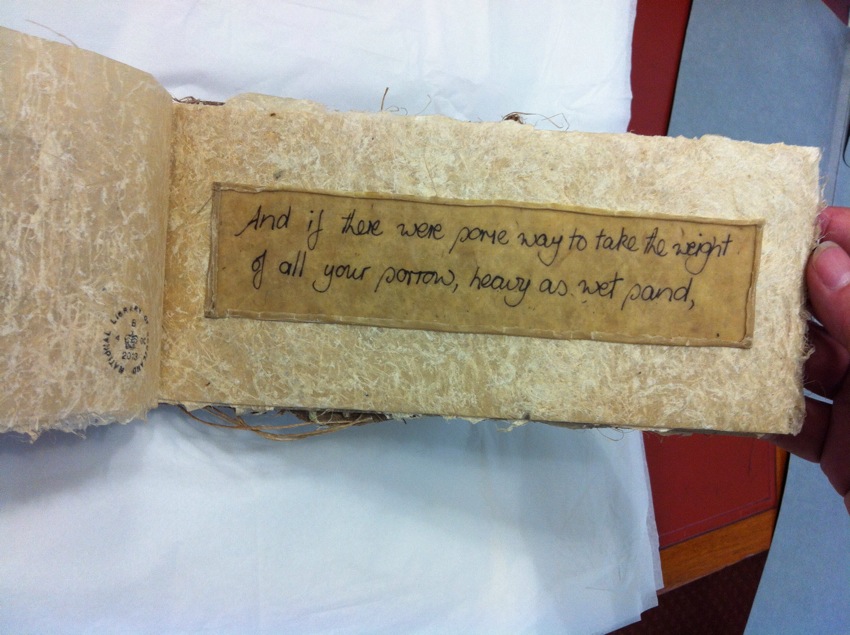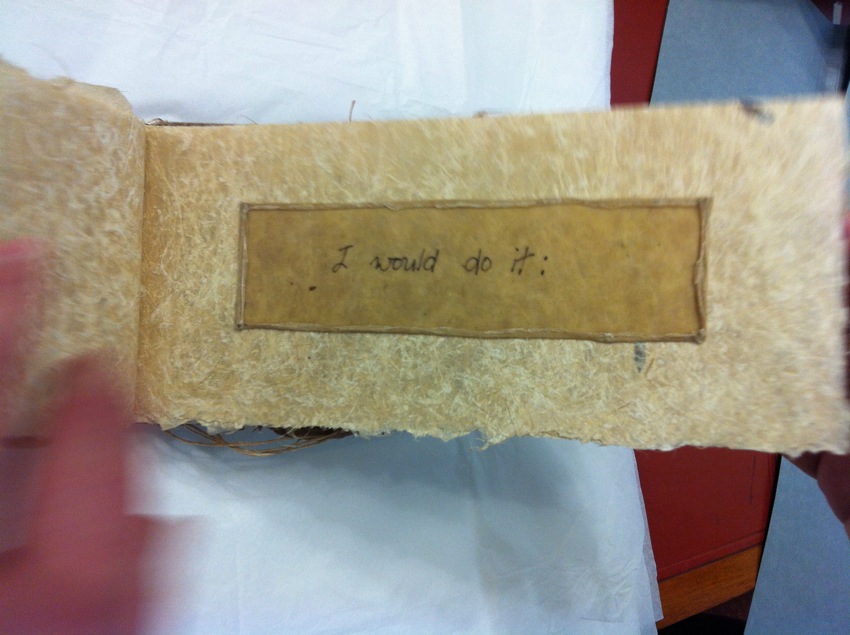 What I haven't yet mentioned was my favorite experience during this visit: hearing Andrew recite a poem in Scots (about two crows!). I tried recording it with my phone but the quality doesn't merit posting. English and Scots are sister languages derived from Anglosaxon (Anglosaxon and Gaelic are two distinct languages).
In the 2011 census, a website was created to help citizens listen to different dialects and determine if they spoke Scots (in addition to speaking English- one can see how one sister language is absorbed by the other) . They shared some words:
Kenspeckle=noteworthy.
Skunner=fed up.
Blether=chatting
Storum=a storm that happens at the wrong time of year.
There were more, but my notes are too slow for the wonderful litany of sound they shared. But I have just ordered a book Andrew suggested by James Robertson: Smoky Smirr O Rain- a Scots anthology.
Needless to say, they accepted Edition 34 on the spot with Andrew's delicious ink and hand.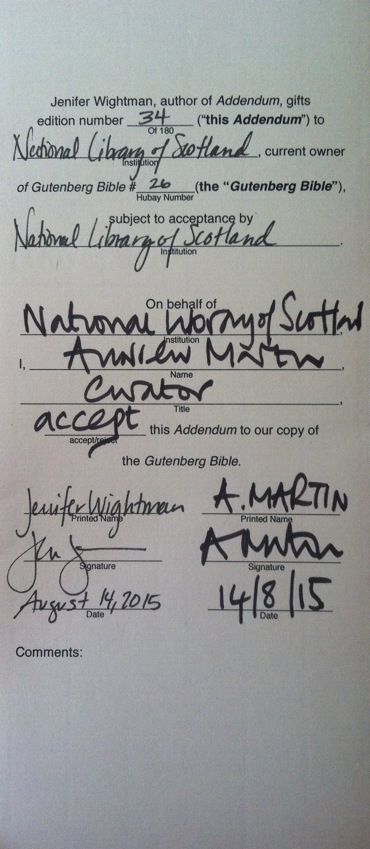 Subsequent to my visit I received the best email message from Anette, indicating that the NLS has given Edition 34 my favorite shelf mark for the Addendum at an institution thus far: "Inc.Suppl15"
That is, my Addendum will be stored with the incunabula -Inc-(first printed books published between 1455 and 1500). Very satisfying position!