Jenifer Wightman
science+art
Week 6
September 11, 2004
Installation: Ithaca, NY USA
Transforming Colorfield
Photo by Johnna MacArthur
1973
Fact.
2006
Revilo and Nancy Wightman Pointing to ~1973 on Population Chart
Self Portrait
Fascist Fashion Show
2003
Performance: Venues Throughout the NorthEast USA
Political Satire on a CatWalk
Photo by Carrie Chalmers
2007
Installation: Bygstad, Norway
Scientific Depiction of the Garden
scientific graphics re-tell the story of genesis
2003
Group Show: Ithaca, NY
Currency Lures
Currency from around the world are flattened by a coal train and turned into fishing lures.
Surd
2002
Installation: Ithaca, NY
Ecological Footprint
Depiction of one Cornell University student's land area needed to sustain his or her paper consumption.
Corn and Beans
2004, Stolen
Installation: Ithaca, NY
Homage to Seed Librarians
Native American heritage corn and bean seeds are sealed in testtubes and hung next to a monocropped field of corn.
2007
Installation: Columbia, SC
Democracy of Decomposition
Cotton seed hulls, coffeegrinds, and oak shaving wastes build this corinthian style column of mushroom re-distribution.
200 cans
In Process: 2005 to present
Installations: public libraries in the NorthEast USA
Edible Art
Home grown heritage tomatoes are canned and given away in exchange for a description of how the recipient will use this source of energy.
Abject Light
2008
Route 120, Plainfield NH
200 road reflectors lit by passing headlights
a roadside 'Clapper', if you will.
Global Warming Bed
2007
Bissel Gallery: Ithaca, NY
Domesticating Scientific Graphs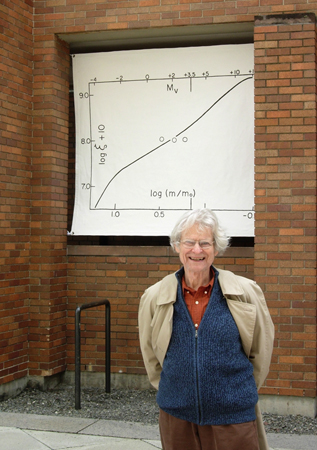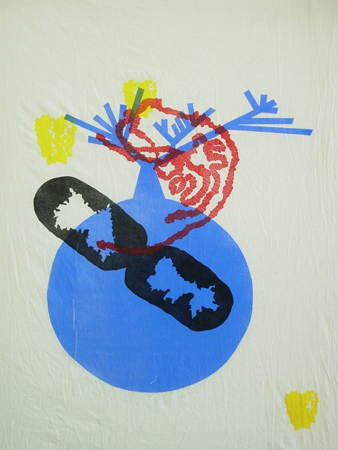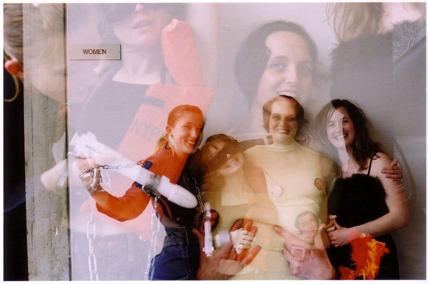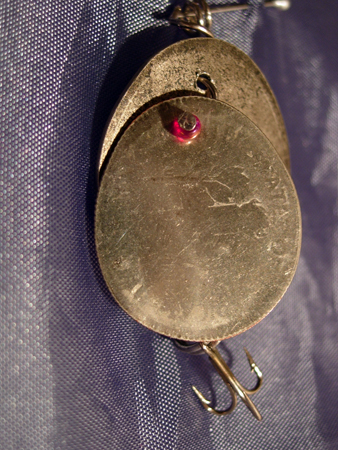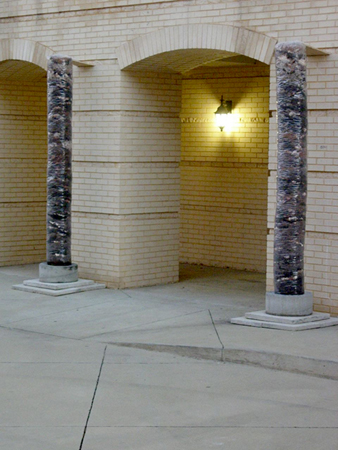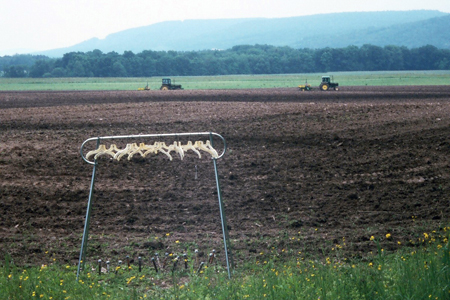 Artist Statement
My work employs scientific tropes to incite curiosity about ecological phenomena. I am interested in poetically articulating the incongruities between our current economic growth paradigm (conceptually unlimited) and our emerging notion of sustainability (limited by finite resources).
I try to capture the visual language of embodied form moving through cycles of destruction and creation within a finite landscape. I am curious how ideas are conserved, mutated, transmitted, or lost in time by the molecular play of our shared materiality. I create experiences for viewers to observe and reflect on biophysical transitions as finite materials cycle between a figure and its field.
I am fundamentally interested in how we might conceive of an ecological rationality by reflecting on the co-evolution of a culture and its supporting ecosystem.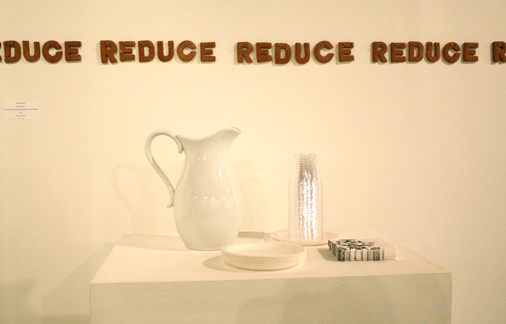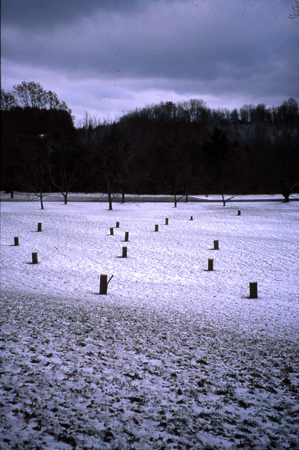 Various Editable Installations
2010
Installation: Ithaca, NY USA
De/Compositions
My Grandmothers cookies are disappeared.
Panel 2
2006
Installation: Ithaca, NY USA
Line Drawings
Dr. Ed Salpeter (Physics Department, Emeritus) standing with his own graph of the frequency of supernova's that are responsible for the heavy elements of the periodic table.