Roadside Clapper

Acknowledgements:
Mr. John DePalma of East Plainfield, NH for permitting the installation on his property. Coburn for helping me install this project in the freezing cold on December 25, 2008 and Nancy for helping me take it down in the freezing cold on January 3, 2009.
For my Father, who taught me how to identify poor insulation on homes by looking for icicles. As I grew older, i noticed fewer and fewer houses had icicles because of increased insulation. Then folks started buying icicle lights. I am curious how nostalgia relates to resource use.
Thank you Mike DePalma for wondering who in his family had run electricity out to this part of the yard to light this tree. Thanks Judith, Keith and Heather for multiple drive-by's for documentation.
Northbound view with flash and breath garland
25+ foot pine tree on Route 120 in East Plainfield NH. 200, 1.25" diameter white road reflectors. 100 yards of cotton string.
East Plainfield, NH
Late December 2008
200 road reflectors were hung on a pine tree located on a tight curve of Route 120. Both southbound and northbound traffic light the tree with their passing headlights.
For my father.
Southbound view with Flash
Southbound view in sunlight
Site, Northbound Route 120
Installation Image
De-Installation Image
1 1/4" diameter road reflectors on string
Installation Image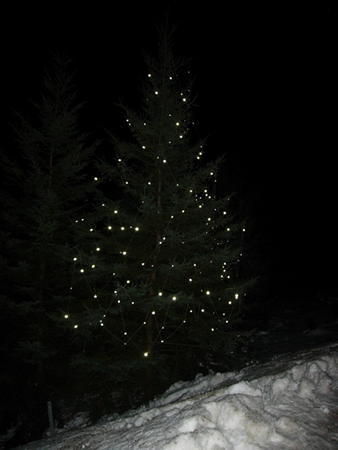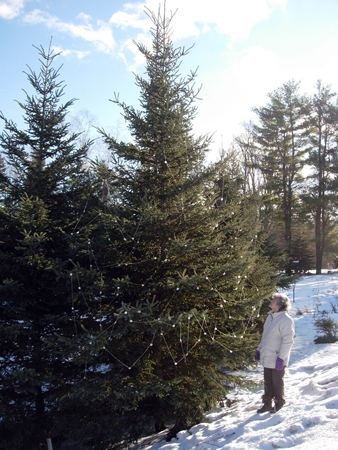 Details